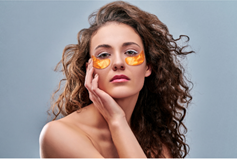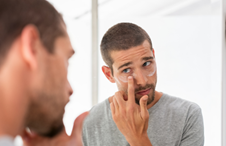 What's the fuss about the area under your eye?
Ever noticed that if you wake up with puffy eyes or dark circles, people notice immediately? Ever been asked if you're not feeling well on a day that you haven't worn kajal or put on an eye liner? That's because an onlooker's eyes dart directly to another person's eyes!
The area under your eye is the patch of skin that gives your eyes their aesthetic beauty – and since it's a flat area of skin leading into your cheekbones and jawline, it's quite evidently visible – thus making it your job to ensure that it stays looking fresh and healthy at all times!
How can you do that? By using the best under eye creams!
The Journal of Cosmetic Dermatology notes that eye creams can indeed promote anti-aging, help improve under eye smoothness, do away with wrinkles and help in skin tightening. Imagine looking 25 even when you're in your mid-thirties!
Alphavedic's Under Eye Cream has been specifically developed to offer the patch of skin under your eye the best treatment, ayurvedically.
Considering the onset of dietary changes and daily stress that we undergo, this patch of skin is prone to:
Develop dark circles,
Fine lines &
Wrinkles.
So, it becomes all the more important to have a routine that will keep the under-eye area looking fresh and ageless.
Having long nights at work poring intently into your laptop? Unable to get some sun? Stressed out? Not keeping hydrated enough?
Alphavedic's under eye cream is a perfect solution for men and women for all these problems, and to fade out dark circles, reduce eyebags and puffiness, brighten the skin area under the eye, and generally offer this patch of skin excellent nourishment and keep it looking moisturized!
With a little application every night, you can prevent skin dullness and rejuvenate the skin tissues under your eyes.
What are some more benefits of Alphavedic's under eye cream?
Control excess oil secretion
Enable anti-aging
Firm up the area around the eyes
… and what ingredients does the Alphavedic under eye cream have to ensure all this?
Concocted with a heady mix of anantmool powder, ahwagandha, manjishtha, yashtimadhu and lemon extract, the Alphavedic under eye cream promises to rehydrate the under-eye area, improve skin health and make it glow. Get your under-eye fix now!