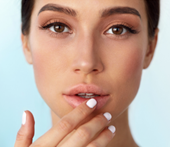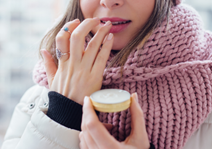 With the seasons changing, pollution levels rising, and you having to step out into the world again, what's the one area your face is complaining about?
Hmm… Better hydration? There are ways to hydrate and keep your skin moisturized, but what about those puckered lips? How do you propose to keep your lips looking fresh, uncracked and juicy?
According to SkincareNow, 62% of both women AND men often complain about dry and flaky lips.
Of this, most men say that due to being in an AC environment all day, their skin and lips don't receive proper hydration;
Most women say feel their lips drying up, but continue to use cosmetics like lipsticks to cover the flaking skin up, making the lips look great temporarily, but feel worse permanently.
Why does lip drying happen?
The lips naturally don't have access to oil glands for protection. So essentially, there's nothing protecting them from feeling full and hydrated. How do you give your lips the moisture they need? By using lip balms that have natural, raw and organic ingredients specifically formulated with botanicals to keep your lips plump and delicious.
I've been applying lip balm, but it doesn't help my lips feel fuller!
To feel fuller, your lips need to absorb hydration and moisture. Lip balms provide this extra juice to your lips, but your lips also need to engage with the balm and take in these nutrients. Sometimes, when lips aren't buffed enough, or the dead skin cells on lips are clogging the lip layers, it becomes tough for the lips to absorb hydration and moisture – so what you need is a lip scrub to exfoliate your lip skin, and then use a good Alphavedic lip balm to polish and nourish.
How does Alphavedic solve this?
Alphavedic's proprietary lip balm offers a soothing solution to cracked and dry lips. Our lip balms help to fix lip sores while providing lips with long-lasting natural moisturizers.
Alphavedic lip balms are your answer to luscious, plump and soft lips because they:
Protect your lips from harsh weather
Keep your lips moisture ridden
Soften and smoothen the skin around the lips, preventing cracking and dryness
Fight sun-damaged lips
To suit your personal needs, we have a range of two exciting lip balms –
Mixed with rose extracts and rose essential oils, the rose lip balm is perfect for the floral side in you. It prevents chapping while giving your lips their dose of coconut oil, shea butter, organic beeswax, sunflower oil and cocoa seed butter – thus enabling a vitamin routine for your lips.
Made with coffee oil extracts, shea butter, sunflower and coconut oil, the coffee lip balm gives your lips the caffeine boost they need to looking fresh, young and healthy.